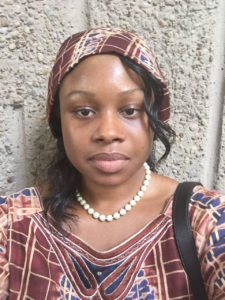 Welcome our friend JoJo,( Jolene) Ogun Our Guest speaker who will presentation regarding to Covid 19

!
When:
Sunday, Feb. 21, 2021 at 1:30pm EST
Zoom Link:
Contact Karen Miller or use
contact form
to get link
Jolene Ayres Ogunjirin, is the founding director of a small Deaf woman-owned business called Diversity Health Education & Outreach (DHEO, LLC). DHEO service focuses on promoting health education to Deaf and Hard of Hearing (DHOH) people, especially in developing nations. In recent years, DHEO contracted with medical & surgical outreach organizations to ensure DHOH people are included in these medical treatment provisions.
Retrospectively, a graduated class of 1997 from Delaware School for the Deaf ( Sterck School) who went on to complete her bachelor's degree in Chemistry from Gallaudet University, class of 2001.
In 2006, Jolene graduated from Howard University College of Medicine with a Master's degree in public health, focusing on cardiovascular diseases (CVD) health disparities. In July 2020, she virtually-graduated with a doctorate of public health degree from Walden University, focusing on CVD risk factors among the Deaf vs. Hearing population; implementing health care solutions to address communication barriers.
In the middle of the COVID-19 pandemic, Jolene felt called to educate DHOH people to ensure they are well-informed about the virus through virtual outreaches to help them survive the pandemic's resilience. Jolene Married to Dr. Debo Ogunjirin , a pharmaceutical scientists , they together have 4 children